THOUGHTFULLY COMPOSED PLATES
Sourced with Love
Located in Ohio City, The Plum is a purveyor of carefully curated American dining from Chefs Brett Sawyer & Vince Thomascik.
Photos by NINA HOLZER
The Plum opened in May 2016 in the Lorain Avenue Historical District in Ohio City. Since then, Chef Brett Sawyer has been serving cuisine that is as whimiscal as it is familiar.
The Plum's interior, designed by owner Jonah Oryszak, reflects the hip sensibilities of the surrounding area while also paying tribute to the neighborhood's storied past.
Phone
(216) 938-8711
Location
4133 Lorain Ave
Cleveland, OH 44113
Hours
T-Th 4 - 10 kitchen 11 bar
F-Sa 4 - 11 kitchen 1 bar
Sa Brunch 11 – 2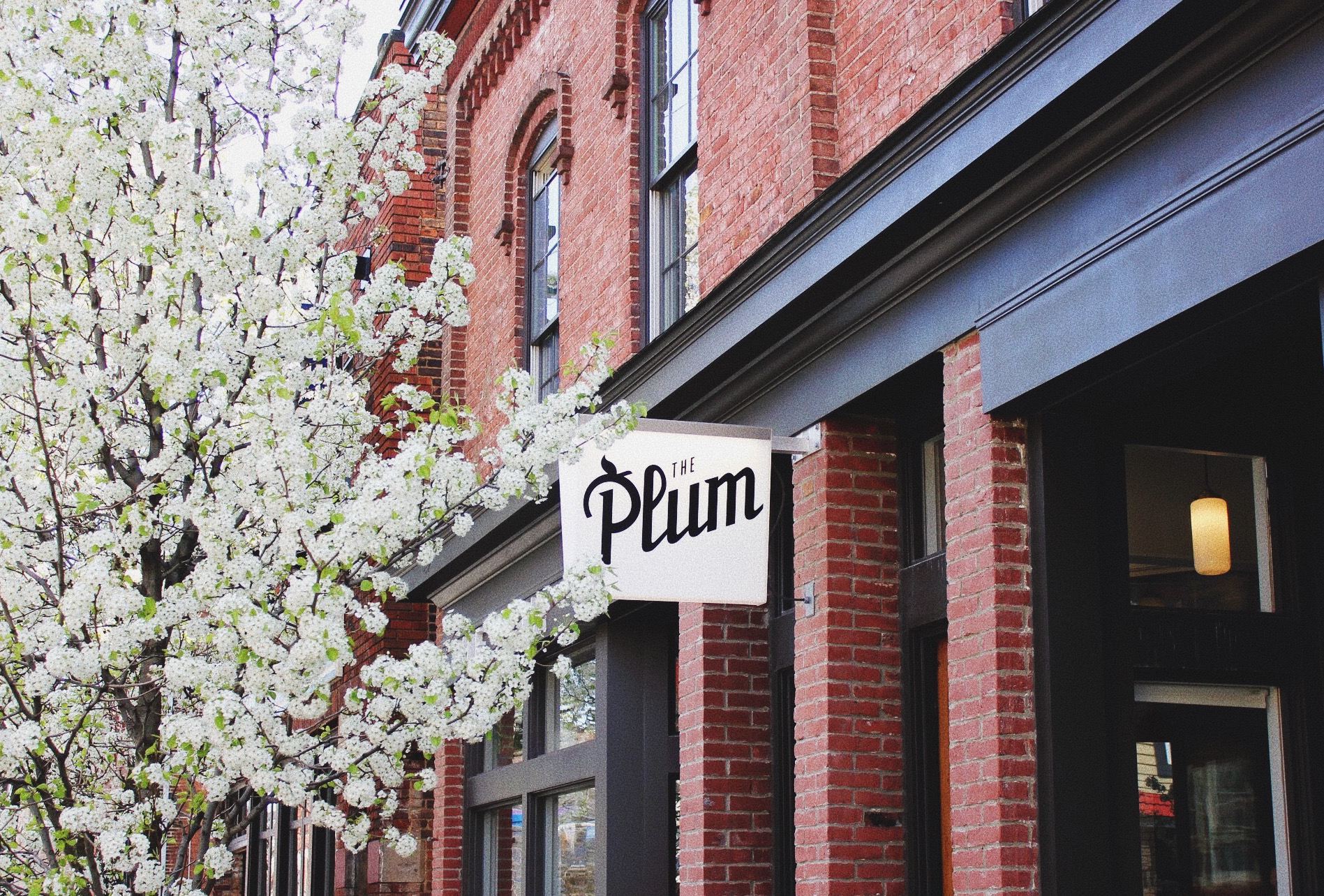 BRUNCH
GREEN BEAN & PEACH SALAD
kale, melon vinegar, peach jam, macrona almonds
CHICKEN & DUCK LIVER MOUSSE
maple plum jam, smoked pork fat, grill bread
BANANA BREAD
black walnut butter, gooseberry, maple
RADISH TOAST
charred scallion, cream cheese, pickled egg on dill rye
ROASTED SQUASH TOAST
buttermilk curd, basil, tomato oil on brioche
CAVIAR TOAST
soft scramble spread, trout roe, beurre blanc, parsley on brioche
AVOCADO TOAST
herb crusted salmon, sweet potato, pickled onion on country bread
JOHNNY CAKE
cornmeal pancake, whipped butter, seasonal preserves, malt syrup
BREAKFAST SANDWICH
(choice of sausage, bacon, fried chicken thigh or double egg)
egg, cheese whiz, mayo on poppyseed milk bun
PLUM BREAKFAST
two eggs, potato cake, choice sausage/bacon, white/rye toast
BREAKFAST BOARD
country ham, cured salmon, pimento cheese, pickled egg, beet mustard, jam du jour, pickled onion, smoked salt & lemon butter, with grill bread
SIDES country ham plate | cured salmon | sausage | bacon | eggs | potato cakes | toast
COCKTAILS
Gretchen watershed vodka, curaçao, apple cider, ginger beer
Lucille watershed guild gin, raspberry simple, tonic, sparkling wine
When Figs Fly tequila, lime, agave, fig jam, thyme
Marjorie watershed apple brandy, scotch, curaçao, lemon, all spice
Kiki bourbon, grapefruit shrub, simple
Grimace watershed four peel gin, lavender simple, lemon, rosemary
The Jinx rum, sweet potato purée, maple, pumpkin pie spice
Alcindor bourbon, aperol, amaro nonio, lemon
Black Mamba rye, averna, burlesque bitters, orange essence
WHITE
Château Laulerie sauvignon blanc france 2018
Nortico alvarinho portugal 2017
Séleme vermentino italy 2016
Bouchard Aîné & Fils chardonnay france 2015
RED
Scaia corvina italy 2016
Quietud malbec argentina 2015
Aerena cabernet sauvignon california 2016
Capoccia ciliegiolo italy 2017
ROSÉ
Domaine Valdernier blend france 2018
Le Quattro Terre barbera italy 2018
L'Ostal blend france 2017
SPARKLING
Vecchia Modena lambrusco italy
Bollicine by Castellarin prosecco italy
Jacques Pelvas sparkling rosé france
Gouguenheim sparkling malbec argentina
BEER / CIDER
Miller High Life Draft lager
Fatheads german-style lager
Jackie O's Mystic Mama ipa
Market Garden Frosty tangerine lime wit
Market Garden Nano lager
Market Garden Chinook Strike ipa
Guinness Draught (14.9oz) stout
Rhinegeist Truth american ipa
Cidergeist Bubbles rosé ale
Kronenbourg 1664 euro pale lager
Kronenbourg 1664 Blanc witbier
Shacksbury Rose rosé cider
Truly Grapefruit hard seltzer
Twisted Tea hard iced tea
Budweiser / Miller Lite beer / almost beer
NO BOOZE
Plum Spritz plum & vanilla simple, lime, soda
Grapefruit Highball grapefruit, lime, simple, jalapeño, soda
Clausthaler dry hopped NA beer
COFFEE + TEA + SODA POP
Iced Tea / Hot Tea
Phoenix Drip Coffee
San Pellegrino (500ml)
Coke / Diet Coke / Sprite / Ginger Ale
Maine Root Ginger Brew
London Fog Tonic
Orangina
New York Seltzer (assorted flavors)
Sprecher Root Beer
For additional information please contact us through the form below.
*for private events please let us know the size of the party you'd like to host & date